Turbocharged Performance LLC
»
Wehrli Fab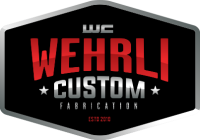 Pop the hood on a diesel enthusiast's truck somewhere in North America and you may find my company's logo on the engine. Welded to an intake or intercooler pipe, this logo represents an awesome responsibility to the diesel enthusiast community that has supported WCFab over the years. It's a responsibility and commitment to ensure WCFab products meet the highest standard of craftsmanship and fitment. We care enough to put our name on it.
---
Wehrli Fab Categories
---
---
More About
Wehrli Fab
Our story begins circa 2010 in Sandwich, Illinois in a two-truck garage at my parent's house. Like many of our customers, motorsports played an important role in my life growing up. Dirt bikes, ATVs, snowmobiles, trucks, racing - you know the drill. When stuff broke, I didn't have the cash to have someone else fix it so my brothers and I did the work ourselves, and that eventually led to fixing other people's things. When I bought my first Duramax, originally to haul my race trailer around, it didn't take long before I developed a passion for diesel power as well, which led to even more work - so much, in fact, that by 2011 the garage was not cutting it anymore! Moving to our first shop in Sugar Grove where we kept expanding into adjoining spaces, growing from 2,400SF to 8,500SF in only four years. Then by 2015 we ran out of space again and moved to Sycamore into 22,500SF shop. More than doubling the size allowed us to bring a powder coating operation in-house which creates all those eye-popping colors you see under our customer's hoods. Spring 2018 we made another move into a 35,000SF facility in DeKalb, Illinois after again outgrowing the shop in Sycamore. The powder coat shop has expanded and now includes high temperature resistant ceramic coatings and two curing ovens. We've also added CNC mills and lathes to help advance our R&D work and high-quality production. Today Wehrli Custom Fabrication & Powder Coating employs over 25 that include my three brothers: Ryan, Mitch, and Chad along with my partner, Brittany. We're an ever-growing group of hard-working and dedicated individuals with talents streaming across the board. Our goal is to serve you, the customer, with the highest quality products and best technical advice combined with great service.